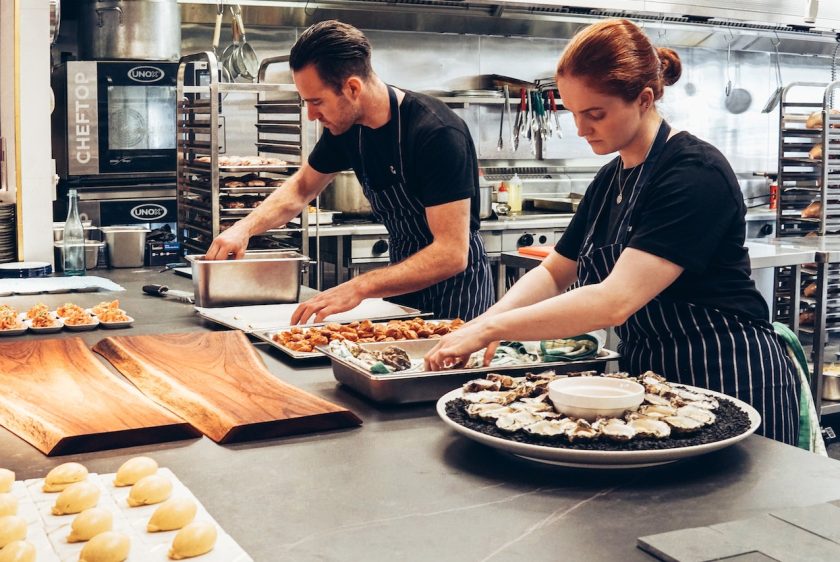 The Benefits of Epoxy Flooring for Restaurants and Commercial Kitchens
Epoxy flooring has been the material type of choice for a number of industries, and that includes restaurants and commercial kitchens. If you're unfamiliar with this type of flooring, don't worry, you're not alone. In its simplest terms, epoxy flooring refers to a coating system that's made by mixing a two-part resin system. The result is a robust and resistant layer that can be applied directly onto a prepared surface, creating a smooth, durable, and long-life flooring solution.
Perhaps you've heard about commercial epoxy flooring, or maybe you're considering it for your restaurant or commercial kitchen. Either way, this blog post will provide you with a detailed insight into why epoxy flooring could be the perfect solution for your food and beverage establishment. From hygienic benefits to aesthetics, let's dive into the advantages of using epoxy for restaurant and commercial kitchen flooring.
It's easy to underestimate the importance of good flooring in a commercial setting, especially in areas that are notoriously tough on floors like restaurants and commercial kitchens. Yet, the right flooring can make your workspace safer, more efficient, and aesthetically pleasing. Let's break down why epoxy is a prime contender.
Unparalleled Durability & Longevity with Epoxy Flooring
If there's one thing you want from your restaurant or commercial kitchen flooring, it's strength. Without a doubt, one of the most significant advantages of epoxy flooring is its durability. Once you put it down, it's there to stay. This hard-wearing material is resistant to most types of damage, including scratches from heavy equipment and stains from food or drink spills.
Prolonged exposure to high foot traffic, heavy machinery, and harsh cleaning chemicals can do a number on most floor types. But not so with epoxy floors. They are designed to withstand the harshest of conditions, making them ideal for busy restaurants and commercial kitchens that see a lot of daily use.
The incredible durability of epoxy flooring also translates into longevity. This type of floor can easily last for decades with appropriate care, ensuring your investment is worth every penny. This durability is a significant bonus, considering how disruptive and costly it can be to replace damaged flooring in a working restaurant or kitchen.
Epoxy Floors Offer Exceptional Hygiene Features
Cleanliness is essential in any setting but even more so in a restaurant or commercial kitchen. Epoxy flooring offers a smooth and seamless surface, meaning there are no cracks or crevices for grime, bacteria, or food debris to hide. It's a game-changer for maintaining a hygienic environment, a critical aspect of a successful food and beverage business.
Additionally, epoxy flooring is non-porous. It doesn't absorb liquids like some other floor types, making it a more hygienic solution. In essence, that means spills can be easily cleaned up without leaving any unsightly stains behind.
Another element of epoxy flooring that makes it a safe choice for restaurants and kitchens is its resistance to bacteria and germs. This resistance can massively help your establishment adhere to health and safety regulations, crucial for public-facing businesses where there's a constant risk of foodborne illnesses.
The Wide Range of Aesthetic Options with Epoxy
When it comes to aesthetics, epoxy flooring doesn't disappoint. It provides a high gloss shine that not only adds a professional look to your space but also amplifies lighting, creating a brighter, more inviting environment. Additionally, epoxy is available in a wide variety of colors and patterns, allowing you to create a unique look that aligns with your restaurant's branding.
Moreover, aside from the standard colors, epoxy flooring can also incorporate logos or other design elements. This allows for a great deal of customization, so you can have a floor that truly reflects your brand identity.
On top of looking great, epoxy flooring also maintains its appearance for an extended period. Despite heavy traffic and regular cleaning, the color and shine of an epoxy floor won't fade easily. This results in a consistently clean and professional look, which can impress both your staff and your customers.
Slip-Resistance and Ease of Maintenance
The safety of staff and customers is paramount in any commercial establishment, especially in places like restaurants and commercial kitchens with a higher chance of spills and mishaps. Epoxy flooring can be treated to be slip-resistant, reducing the likelihood of accidents.
Also, epoxy flooring is exceptionally low maintenance. Routine cleaning is all it needs to look its best, and because it's resistant to most stains, it's easy to keep it looking neat and tidy. This not only reduces the time and cost associated with cleaning but also ensures your restaurant or kitchen always looks its best.
Cost-Effectiveness of Epoxy Flooring
Considering all its benefits, you might assume that epoxy flooring is expensive. However, epoxy flooring provides excellent value for money. The upfront cost might be higher than other alternatives, but when you factor in its durability, low maintenance, and minimal need for replacements, it's an investment that pays for itself over time.
Conclusion
As you can see, epoxy flooring offers vast benefits for restaurants and commercial kitchens. With its remarkable durability, hygienic qualities, range of aesthetic options, low maintenance, and cost-effectiveness, it's an excellent choice for food and beverage establishments looking to enhance their workspace.
Whether you're planning to open a new restaurant or renovating an existing kitchen, consider investing in epoxy flooring. It's a decision you won't regret.