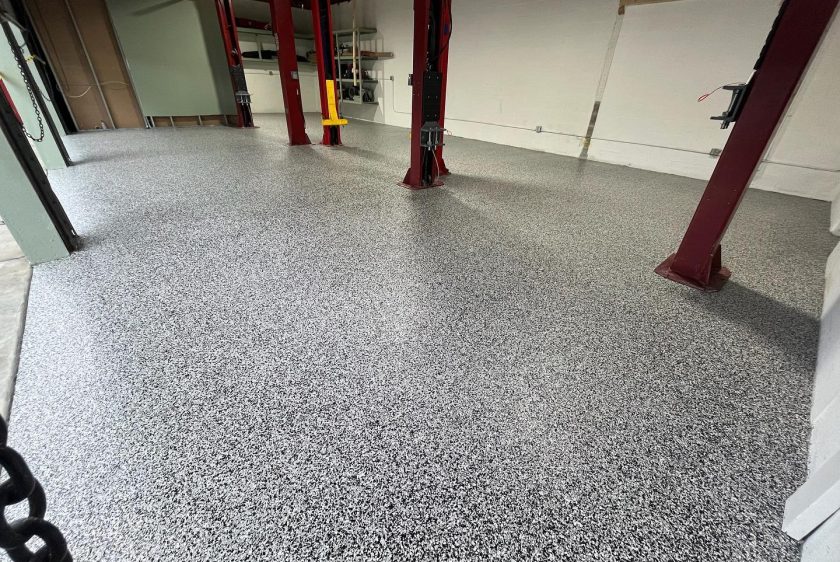 Polyaspartic Flooring: The Perfect Balance of Beauty and Resilience
The Advantages of Polyaspartic Flooring
Within the realm of flooring solutions, polyaspartic flooring stands tall as a versatile and robust choice. This remarkable coating not only offers a perfect balance of beauty and resilience but also possesses several advantages that make it a compelling option for both residential and commercial spaces. In this comprehensive blog post, we will deep dive into the world of polyaspartic flooring, exploring its unique characteristics, benefits, and applications. Join us as we uncover why polyaspartic flooring is the perfect choice for those seeking a flooring solution that combines aesthetics and durability seamlessly.
Beauty that Transcends Expectations
One of the standout features of polyaspartic flooring is its ability to enhance the beauty of any space. With a wide range of customizable finishes, polyaspartic coatings offer limitless design possibilities. Whether you prefer a sleek and modern look or a rustic and timeless feel, polyaspartic flooring can be tailored to complement your unique style and preferences. The beauty of polyaspartic flooring lies in its ability to seamlessly integrate with your existing interior design, enhancing the overall aesthetic appeal.
Polyaspartic flooring not only looks stunning but also withstands the test of time with its remarkable durability. Its resistant nature ensures that it retains its beauty even after years of use, making it an excellent long-term investment for any space. The customizable finishes of polyaspartic flooring allow you to bring your creative vision to life, transforming your floors into a work of art.
Resilience that Stands the Test of Time
Polyaspartic flooring is not just a pretty face; it is built to withstand the most demanding environments. With exceptional durability, this flooring solution excels in high-traffic areas where footfall or heavy equipment might normally cause wear and tear. Whether it's a bustling retail space, a busy workshop, or a garage that experiences constant vehicular movement, polyaspartic coatings offer unrivaled resilience. When you choose polyaspartic flooring, you can rest assured that it will stand the test of time and maintain its pristine appearance for years to come.
Polyaspartic flooring is resistant to scratches, stains, and chemicals, making it an ideal choice for spaces that require a robust and reliable flooring solution. Its exceptional strength ensures that it can handle the rigors of daily use without compromising its integrity. Whether you have high-traffic commercial areas, such as restaurants, offices, or shopping malls, or areas prone to spills and stains, like kitchens or bathrooms, polyaspartic flooring is up to the challenge.
The Power of Rapid Curing
One of the primary advantages of polyaspartic flooring is its rapid curing time. Unlike traditional flooring solutions, polyaspartic coatings have an impressively fast curing process, reducing downtime significantly. This means that you can have your space up and running in a fraction of the time it would take for other flooring options. Whether it's a commercial project with tight deadlines or a residential renovation that requires timely completion, polyaspartic flooring ensures minimal disruption to your daily operations.
Rapid curing is one of the many reasons why polyaspartic flooring is a preferred choice for businesses and homeowners alike. With its speedy installation process, you can save valuable time and resources while still achieving outstanding results. This makes polyaspartic flooring an excellent option for those who value efficiency and productivity without compromising on quality.
Chemical Resistance for Ultimate Protection
Polyaspartic coatings are renowned for their exceptional resistance to chemicals and other harsh substances. This makes them ideal for spaces that require utmost protection against spills, stains, and corrosive materials. From residential kitchens to commercial laboratories, polyaspartic flooring provides a shield against the elements, ensuring long-lasting protection and easy maintenance. When accidents happen, polyaspartic flooring has your back, allowing you to clean up without worrying about permanent damage or discoloration.
The chemical resistance of polyaspartic flooring extends its lifespan and enhances its overall durability. It safeguards against the damaging effects of common household and industrial chemicals, maintaining the pristine appearance of your floors. By incorporating polyaspartic flooring into your space, you can have peace of mind knowing that your floors are well-protected and ready to tackle any challenges that may arise.
UV Protection for Enduring Brilliance
Exposure to harmful UV rays can cause the flooring to fade and lose its luster over time. However, polyaspartic coatings come to the rescue with their exceptional UV protection properties. By providing a layer of defense against the sun's rays, polyaspartic flooring maintains its brilliance and color vibrancy even in outdoor or sun-drenched environments. Whether you have an outdoor patio, a rooftop terrace, or a commercial space with large windows, polyaspartic flooring ensures that your floors remain as captivating as ever.
The UV protection offered by polyaspartic flooring keeps your space looking fresh and vibrant for the long haul. It safeguards against the damaging effects of sunlight, preventing fading, yellowing, and discoloration. With polyaspartic flooring, you can enjoy the beauty of your floors without worrying about them losing their brilliance due to prolonged exposure to the sun.
Industrial Strength for Uncompromising Performance
Originally developed for industrial use, polyaspartic flooring is synonymous with strength and durability. Engineered to withstand heavy loads, impact, and abrasion, this flooring solution is the epitome of industrial-grade performance. Whether it's a manufacturing facility, a warehouse, or an automotive repair shop, polyaspartic flooring ensures uncompromising performance, delivering the toughness required to withstand demanding environments. When it comes to withstanding the rigors of daily operations, polyaspartic flooring emerges as the clear champion.
The industrial strength of polyaspartic flooring makes it a sought-after choice for diverse commercial spaces. It can withstand heavy equipment, frequent foot traffic, and rigorous activities that are commonplace in industries such as manufacturing, logistics, and automotive repair. With polyaspartic flooring, you can have floors that endure the toughest conditions without sacrificing their appearance or performance.
Polyaspartic Flooring: Embrace the Perfect Balance of Beauty and Resilience
In conclusion, polyaspartic flooring reigns supreme as a flooring solution that seamlessly blends aesthetics and durability. Its customizable finishes allow you to create spaces that reflect your unique style, while its resilience ensures longevity even in high-traffic areas. With rapid curing, chemical resistance, UV protection, and industrial strength, polyaspartic flooring surpasses expectations and delivers exceptional performance. So, why compromise when you can have it all? Embrace the beauty and resilience of polyaspartic flooring and elevate your space to new heights.
With its remarkable advantages, polyaspartic flooring offers the perfect combination of beauty and resilience. Whether you are looking to revamp your home or enhance the functionality of your commercial space, polyaspartic flooring serves as the ideal flooring solution. Its ability to effortlessly merge aesthetics with durability makes it highly sought-after in a variety of applications.
So go ahead, embrace the perfect balance of beauty and resilience with polyaspartic flooring. Experience the joy of walking on floors that look stunning and withstand the test of time. Upgrade your space with this exceptional flooring solution and revel in its many benefits. Choose polyaspartic flooring and embark on a journey of transformative beauty and unwavering strength.